Tradition and hospitality are writ large in the Hotel Goldene Sonne. Built in the early fifteenth century, the stylish classic establishment has been owned by the Baier Family since 1920 and has been successful as a family-run hotel since its early days. 2020 the Hotel Goldene Sonne is for now 100 years in the hand of family Baier. During renovation the neat grounds and versatile public spaces have been adapted with loving attention to detail to meet modern requirements. The historic wooden beams and the confident and stylish selection of exclusive materials have created a particularly warm ambience. Since 2000 the Hotel Goldene Sonne has been managed with dedication and cordiality in the third generation. The Baier Family is committed to realising its philosophy of hospitality in a traditional setting which will enable its guests can enjoy the feeling of being at home.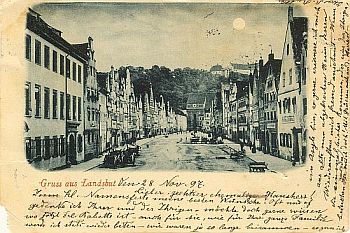 LIVING TRADITION IN THE HEART OF LANDSHUT
The mediaeval town of Landshut with its historic city centre welcomes you as a visitor. The town has achieved fame above all for the "Landshut Royal Wedding of 1475". Even in those days guests were well accommodated and entertained in the Goldene Sonne. The history of the hotel goes back to 1400, when it was one of the largest inns in town. The Goldene Sonne can look back on a long list of important personalities who have stayed here. In addition to church dignitaries, dukes and princes, His Majesty King Max I Josef of Bavaria was a guest here on 19 September 1818. Then as now, the Goldene Sonne was famous for its hospitality linked with the charm of Bavarian history. In this traditional hotel in the heart of the Old Town of Landshut you can experience a combination of a congenial atmosphere and modern-hotel comfort.